The Official BSA Whittling Chip
for Bear Cub Scouts and Webelos Scouts
is a Wallet Card (No. 34223A) and/or Patch (08598)
(shown above)
The Whittling Chip patch is considered a "Temporary Patch" and, if worn, should be worn
centered on the RIGHT Pocket of the Cub Scout or Webelos Scout Uniform Shirt.
It should NOT be sewn on a pocket flap
---
A certification form, which can be used to record progress toward earning the Whittling Chip, can be downloaded from here:
http://www.scouting.org/filestore/cubscouts/pdf/512-028_WB.pdf
Requirements:
Know the safety rules for handling a knife.
Show that you know how to take care of and use a pocketknife.
Make a carving with a pocketknife. Work with your den leader or other adult when doing this.
Read, understand and promise to abide by the "Knives Are Not Toys" guidelines.
Read, understand and promise to abide by the "Pocketknife Pledge. "

The Pocketknife Pledge:
In return for the privilege of carrying a pocketknife to designated Cub Scout functions, I agree to the following:
I will treat my pocketknife with the respect due a useful tool.
I will always close my pocketknife and put it away when not in use.
I will not use my pocketknife when it might injure someone near me.
I promise never to throw my pocketknife for any reason.
I will use my pocketknife in a safe manner at all times.
The back of the card looks like the following: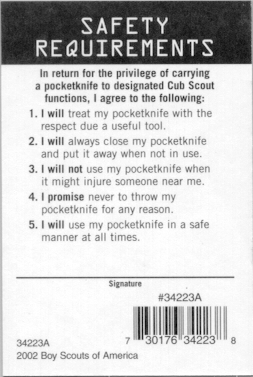 The older version of the Whittling Chip card (No.34223), shown below, is also in wide use and is still valid.