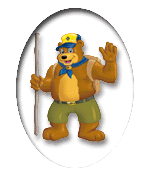 CONTACT BALOO


Write to Baloo (Click Here) to offer contributions, suggest ideas, express appreciation, or let Commissioner Dave know how you are using the materials provided here. Your feedback is import. Thanks.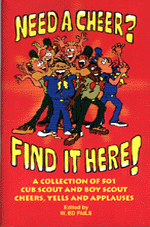 February 2006 Cub Scout Roundtable Issue

Volume 12, Issue 7
March 2006 Theme

Theme: Cubstruction
Webelos: Engineer & Athlete
Tiger Cub Activities
CUB GRUB
Foundation Snacks
Baltimore Area Council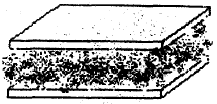 Ingredients
Graham Crackers
Chocolate frosting
Peanut Butter
Chocolate chips
Mini M&Ms
Chopped Peanuts
Directions
Break graham cracker into squares
Spread a layer of frosting on one side of a square
Spread the other square with peanut butter
Sprinkle chocolate chips or nuts top of the peanut butter.
Cover with the first cracker,
Frosting side down.
Gently press together.
House-Wiches
Greater St. Louis Area Council
Cut the top of a slice of bread in a triangle shape to resemble a roof shape.
Spread cream cheese or peanut butter over the bread shape.
Add a cheese slice, cut on the diagonal (triangle), to the roof area of the bread house.
Using more cheese pieces, cucumber slices, thin carrot slices
or whatever food item you can think of, add windows, and doors to the house.
Skiing Snowman
Baltimore Area Council
Ingredients
3 lg. Marshmallow
2 toothpicks
3 pretzels
Pieces of black licorice lace
2 flat carrot Sticks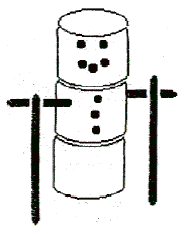 Directions
Stack the 3 marshmallows. to form snowman,
Hold them together with a toothpick.
Push 1 pretzel through top of middle marshmallow to form arms.
To make face and buttons press licorice into marshmallows .
Place snowman on carrot skis.
Lean remaining pretzel sticks against snowman's arms for ski poles.
Marshmallow and Pretzel Towers
Ingredients
1 bag large marshmallows,
1 bag small marshmallows,
1 bag thin pretzel sticks,
1 bag large pretzel sticks,
Directions
Place all 4 ingredients in separate bowls and put themwhere everyone can reach.
Write on small slips of paper different things to make out of the pretzels and marshmallows fold themand place themin another bowl. For Example: A triangle, a circle, a square, a bridge, a ladder, a car, a boat, a train and a tower.
Pull slips out one at a time and let the boys make each item.

Graham cracker Houses
You will need:
1-box grahamcrackers,
pint size milk carton for each child,
a small square of cardboard covered with tinfoil for each child,
assorted candies for decorating the houses,
royal icing
Royal icing
You will need:
2 egg whites,
3 cups confectioners' sugar,
1 1/4-teaspoon creamof tartar
Directions for House and Icing
Beat the egg whites with the sugar and creamoftartar with an electric mixer until creamy and smooth.
When not using cover with damp clothe to keep it fromhardening.
Frost the bottomof the empty and cleaned milk carton and 'glue' to the cardboard.
Allow drying for about 5 minutes.
Then frost each side of the carton and put on graham crackers, until all four sides are covered.
Let stand for another 5 minutes and then break one cracker in half to use for the roof and put onto the base.
Wait another 5 minutes and then allow the children to decorate their houses the way they would like

Materials found in Baloo's Bugle may be used by Scouters for Scouting activities provided that Baloo's Bugle and the original contributors are cited as the source of the material.

Materials found at the U. S. Scouting Service Project, Inc. Website ©1997-2005 may be reproduced and used locally by Scouting volunteers for training purposes consistent with the programs of the Boy Scouts of America (BSA) or other Scouting and Guiding Organizations. No material found here may be used or reproduced for electronic redistribution or for commercial or other non-Scouting purposes without the express permission of the U. S. Scouting Service Project, Inc. (USSSP) or other copyright holders. USSSP is not affiliated with BSA and does not speak on behalf of BSA. Opinions expressed on these web pages are those of the web authors.