SPECIAL OPPORTUNITIES
Interpreters Strips
Bill James, International Representative,
Southern NJ Council,
Commissioner Dave and others
When I was a Boy Scout, if you chose a certain requirement for the World Brotherhood Merit Badge you could earn an Interpreter's Strip for a foreign language. I elected this option when earning World Brotherhood (now Citizenship in the World and the foreign language option is no longer there.) I knew of no other way to obtain the strip except while earning the merit badge. But the Interpreter's Strip still exists. My son earned Signing while a Boy Scout. And my daughter was presented her Italiano and Signing Strips at our January Roundtable. (She is now an Associate Venturing Advisor having turned 21 on January 10)
In 2003 I participated on a Wood Badge staff and our council's International Representative was a participant in the course. What occurred was a classic case of student teaching teacher. He explained how any member of the BSA – Cub Scout, Boy Scout, Venturer or Leader could earn Interpreter's Strips. This was exciting news for me as elementary schools now teach foreign languages to our Cub Scouts and many families are bilingual. A Leader earning an Interpreter's Strip sets a great example for youth in showing that we do respect other peoples. Encouraging the Cubs to earn one helps them learn respect for others. Here is what Bill wrote me when I asked him for more information -
Around the world Cub Scouts are known by many different names. Beavers, Wolves, Joeys are just a few of the different names young Scouts are called in other lands. Although we have many different customs and traditions we have much in common with our Scouting friends in distant countries. For instance, all Cub Scout Associations have a Cub Scout Law and Promise that is very similar to our own. Additionally every country wears with pride their own distinctive uniform and Scouts worldwide wear the World Crest. On our uniform it's placed on the left breast just below the blue epaulet loop. We do this in solidarity with our fellow Scouts around the world.
The International Division of Boy Scouts of America and local councils are hopeful that our Cub Scout leaders will do what they can to promote that solidarity and fellowship by wearing the World Crest and the interpreters strip which indicates a leader's (or Cub's) ability to reach out and communicate in a foreign language or signing to the hearing impaired. The requirements listed here are demanding yet very doable.
Carrying on a 5-minute conversation in this language.
Translating a 2-minute speech or address.
Writing a letter in the language (Does not apply for sign language)
Translating 200 words or more from the written word.
If you have any questions about this frequently overlooked uniform strip, you can E-mail me at wrjames@comcast.net
More Information –
From http://www.mninter.net/~blkeagle/preter.htm
The unit leader verifies the requirements, after receiving sufficient evidence of the Cub or Boy Scout's, Venturer's, or Scouter's ability to read/write/speak/understand the language. The unit leader or representative should note the personal achievement on the BSA Advancement Report for youth or on the BSA Training Report for adults and submit to the local Council. The unit or qualifying leader may purchase the strip. The strip is worn on the right side of the field uniform above the "Boy Scouts of America" strip.
Most Cub Scouts, Boy/Varsity Scouts and Explorers earn an interpreter's strip in one of three ways: Their parents speak a language in addition to or other than American English; they learn how to speak a language or how to use American or Enhanced Sign Language in school or through Scouting or other agency; or they have lived overseas in a country for several years and had to learn the language on their own. Most adults earn an interpreter's strip by working or living overseas as part of business.
The Interpreter strip is an important communications award for Scouts and Scouters. For many, it represents a closer tie with their family and heritage. For some, it gives an additional form of service at the community, local Council, and National levels, because interpreters are often requested by community service agencies, local Councils and the BSA to work at special events, encampments and programs. It is not a "gimme" award but something that each person wearing the strip should be proud of.
Of course, when a Scout or Scouter feels that they can no longer understand or speak that language satisfactory, they should remove the strip and save it as a personal memory item. It does nobody any good at all when a person speaking German comes to you and you cannot understand them clearly enough to understand that they need help or require assistance in some way!
Two websites for more information –
http://www.mninter.net/~blkeagle/preter.htm
http://www.usscouts.org/advance/boyscout/interpreters.html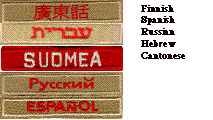 Test you knowledge of different languages. Match the following by drawing a line to the correct interpreters strip
The correct order top to bottom is – Cantonese. Hebrew. Finnish, Russian, Spanish
Boys' Life Reading Contest
Enter the 19th Boys' Life Reading Contest Now!

Write a one-page report titled "The Best Book I Read This Year" and enter it in the Boys' Life 2006 "Say Yes to Reading!" contest.
The book can be fiction or nonfiction. But the report has to be in your own words—500 words tops. Enter in one of these three age categories: 8 years old and younger, 9 and 10 years old, or 11 years and older.
First-place winners in each age category will receive a $100 gift certificate good for any product in the Boy Scouts Official Retail Catalog. Second-place will receive a $75 gift certificate, and third-place a $50 certificate.
Everyone who enters will get a free patch like the yellow one above. (The patch is a temporary insignia, so it can be worn on the Boy Scout uniform shirt. Proudly display it there or anywhere!) In coming years, you'll have the opportunity to earn the other patches.
The contest is open to all Boys' Life readers. Be sure to include your name, address, age and grade on the entry. Send your report, along with a business-size, self-addressed, stamped envelope, to:
Boys' Life Reading Contest, S306
P.O. Box 152079
Irving, TX 75015-2079
For more details go to www.boyslife.org
Entries must be postmarked by Dec. 31, 2006.


Cubmaster Training Award
Kommissioner Karl
The Cubmaster Training Award can be earned by any registered Cubmaster.
A brief summary of requirements include:
Serve 2 years as Cubmaster, or 1 year as Assistant CM and 1 year as Cubmaster;
Conduct a pack meeting once per month for the program year;
While Cubmaster the Pack earns --

The National Quality Unit Award and
The National Summertime Award; and
Complete
Fast Start Training
New Leader Essentials
Position Specific for Cubmaster and
Youth Protection training
Attend --

4 roundtables, or
1 Pow Wow or University of Scouting.
For the complete requirements and a progress record, go to: http://www.scouting.org/forms/34169/53.pdf
For more information on the National Quality unit award, look in your Cub Leaders Guide Book or at:
http://www.scouting.org/forms/14-220-05.pdf
More on the National Summertime Pack Award and how to earn it can be found at:
http://www.scouting.org/forms/33748.pdf