WEB SITES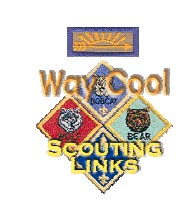 Great Salt Lake Council
Overview of Scouting's Religious Award Program
An overview of Scouting's Religious Award Program is available on National's Website http://www.scouting.org/awards/religious/index.html
Catholic Religious Award Information
Information on the Light of Christ, Parvuli Dei, and Ad Altari Dei Awards is available through the Catholic Committee on Scouting, located at www.nccs-bsa.org .
Protestant Religious Award Information
Information on the God and Country Series is available through PRAY Publishing located at www.praypub.org.
Be sure to check out Danielle's Place. They believe learning should be fun. The site is dedicated to teaching children through crafts and activities. You will find hundreds of inexpensive crafts and activities for children. Most of the crafts and activities on this site are Bible-based and are great to use in Sunday School, Vacation Bible School, preschool, and home school . http://www.daniellesplace.com/
Science Buddies Need ideas for Science projects for Webelos or Belt Loops and Pins? Just want to do something different? Find them here! Science Buddies is a non-profit organization empowering students from all walks of life to help themselves and each other develop a love of science and an understanding of the scientific method.
http://www.sciencebuddies.org/
More than you could ever want to know about Balloons
Twist them; shape them, and more - http://www.mbd2.com/kidsstuff.htm
Engineering Websites –
Twenty Greatest Engineering Achievements of the 20th Century http://www.greatachievements.org/
Maybe better for the adults than the Scouts but I liked it.
National Engineer's Week, February 19-25, 2006
Check it out things to do at http://www.eweek.org/index.shtml
Karen says there are lots of good things for Scouts (and others) to do
A good resource for engineering projects is http://pbskids.org/zoom/sci/
Engineering School sites –
Valparaiso University, College of Engineering http://www.valpo.edu/engineering/
Rensselaer Polytechnic Institute – www.rpi.edu