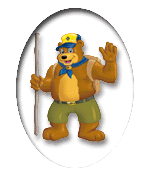 CONTACT BALOO


Write to Baloo (Click Here) to offer contributions, suggest ideas, express appreciation, or let Commissioner Dave know how you are using the materials provided here. Your feedback is import. Thanks.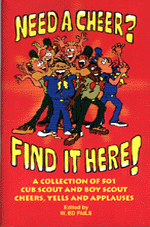 January 2006 Cub Scout Roundtable Issue

Volume 12, Issue 6
February 2006 Theme

Theme: Cubs in the Future
Webelos: Scholar & Engineer
Tiger Cub Activities: Requirement #4
CUB GRUB
Jet Swirl Pizza Appetizers
San Gabriel Valley, Long Beach, Verdugo Hills Councils
Similar to meat-filled calzones.
Ingredients:
1 (10 ounce) can refrigerated pizza crust dough
¼ lb. each thinly sliced Genoa salami, pepperoni sausage, provolone cheese
½ cup shredded mozzarella cheese
Directions:
Preheat oven to 350°F (175°C).
Lightly grease a large baking sheet.
Roll pizza crust dough into an approximately 10x14" rectangle on the baking sheet.
Layer with Genoa salami, pepperoni and provolone cheese.
Sprinkle with mozzarella cheese to within ½" of dough edge.
Roll jelly roll style.
Seal the edge with a fork.
Bake in the preheated oven 25 minutes, or until golden brown.
Slice into 1" pieces to serve.
Original recipe yield: 5 servings.
Flying Saucers
San Gabriel Valley, Long Beach, Verdugo Hills Councils
Hearty cookie with oats, coconut and wheat flakes cereal. Great for a snack.
Ingredients:
1 cup shortening
1 cup white sugar
1 cup brown sugar
2 eggs
1 teaspoon vanilla extract
½ teaspoon baking powder
½ teaspoon salt
2 cups rolled oats
2 cups whole wheat flake cereal
1 cup flaked coconut
Directions:
Preheat oven to 350°F (175°C).
Grease cookie sheets.
In a large bowl, cream together the shortening, white sugar and brown sugar until smooth.
Beat in the eggs one at a time,
Then stir in the vanilla.
Combine the baking powder, baking soda and oats; stir into the sugar mixture.
Fold in the wheat cereal and coconut.
Drop dough by teaspoonfuls onto the prepared cookie sheets. Flatten slightly with a fork.
Bake for 10 to 12 minutes in the preheated oven, or until light brown.
Original recipe yield: 3 dozen.
Apple Half Moons
San Gabriel Valley, Long Beach, Verdugo Hills Councils
Short Cut - try using chunky applesauce in place of apples. Or go wild with fruit preserves!
Ingredients:
1/3 cup sour cream
¾ cup butter
1 egg yolk, beaten
¼ cup raisins
1 teaspoon vanilla extract
1 tablespoon brown sugar
1½ cups all-purpose flour
1 teaspoon apple pie spice
¼ cup white sugar
2 apples - peeled, cored and chopped
Directions:
Stir together to blend sour cream, egg yolk and vanilla extract.
In a large bowl stir together flour and sugar.
Cut in ¾ cup butter or margarine until like coarse crumbs.
Mix in sour cream mixture until well blended.
Divide dough in half and chill until easy to handle (3 hours or so).
To Make Filling:
In small saucepan, melt the 1 tablespoon margarine.
Add apples, raisins, brown sugar and apple spice and cook,
Stir occasionally, until apples are fork tender.
Remove excess liquid and cool.
To Assemble Pastry
Roll each piece of dough to about 1/8" thickness and cut with 2½" round cookie cutter.
Place rounds ½" apart on ungreased cookie sheet.
Place (skimpy) teaspoon of filling on each round and fold in half.
Seal edges with fork.
Bake at 350°F (175°C) for 10 to 12 minutes or until light brown.
Remove and cool.
Drizzle with lemon sugar icing made with ½ cup powdered sugar, 1 teaspoon lemon juice (fresh) and 1 tablespoon water. Mix to drizzling consistency. If too thick, add a little more water, if too thin, a little more confectioners' sugar.
Original recipe yield: 4 dozen.
Alien Meltdown
Baltimore Area Council
Snip one marshmallow into a triangular head and another into a torso with arms. Insert mini chocolate chip eyes. then assemble the Alien on a cookie for his "flying saucer". Place him in the microwave for about ten seconds on high and you've got alien meltdown!! Cool, eat and enjoy.
Fried Saturn Rings
Baltimore Area Council
Ingredients:
Tart Apples
Butter/Margarine
Brown sugar
Directions:
Core the apples, peel only if the skin is tough.
Slice into 1/2 inch thick rings.
Sauté in butter until barely tender.
Turn over and cook until tender.
Sprinkle brown sugar and cover until sugar melts.
Asteroids
Baltimore Area Council
Ingredients:
1 Cub sugar
1/4 cup margarine
1/4 cup milk
1 1/2 cups quick oatmeal
1/4 cup chopped nuts
2 1/2 tablespoons creamy peanut butter
1/2 teaspoon vanilla
Directions:
Combine sugar, margarine and milk in sauce pan,
Boil 1 minute.
Pour hot mixture over oatmeal and peanut butter.
Add nuts and vanilla.
Mix, drop by teaspoon onto wax paper.
Let cool until firm.
Fast Space Age Soup
Baltimore Area Council
Ingredients:
1 can (14.5 oz) chopped tomatoes
3 cans (14.5) chicken broth
1/3 cup alphabet noodles
1/2 cup quick cooking pearl barley
8 oz frozen baby carrots
1 pkg (10 oz) frozen corn
1 pkg (10 oz)frozen cut green beans
1 tsp dry oregano
1/4 tsp pepper.
Directions:
Mix tomatoes, chicken broth, noodles and barley in a pan.
Bring to a boil over high heat stirring occasionally.
Slice the carrots and add with corn and green beans.
Season with oregano and pepper.
Reduce heat and simmer for 10 minutes or until the barley is cooked.

Materials found in Baloo's Bugle may be used by Scouters for Scouting activities provided that Baloo's Bugle and the original contributors are cited as the source of the material.

Materials found at the U. S. Scouting Service Project, Inc. Website ©1997-2005 may be reproduced and used locally by Scouting volunteers for training purposes consistent with the programs of the Boy Scouts of America (BSA) or other Scouting and Guiding Organizations. No material found here may be used or reproduced for electronic redistribution or for commercial or other non-Scouting purposes without the express permission of the U. S. Scouting Service Project, Inc. (USSSP) or other copyright holders. USSSP is not affiliated with BSA and does not speak on behalf of BSA. Opinions expressed on these web pages are those of the web authors.