Venturing Advisor's Award of Merit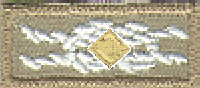 ---
---
Below are the requirements for the Venturing Advisor's Award of Merit
before it was replaced by the Unit Leader's Award of Merit.
---
One of the unique attributes of the Venturing program is the relationship between Venturers and the Crew Advisor. The ability to work effectively with young adults as they themselves plan and run the program is a true test of leadership skills. The Venturing Advisor Award of Merit recognizes crew Advisors for tenure, training, and quality crew program.
The Venturing Advisor's Award of Merit may be earned by a Scouter who has met the following requirements:
Be a currently registered Venturing Advisor who has served in that position for at least 18 months.
Complete Venturing Fast Start and Venturing Leader Specific Training.
Achieve the Quality Unit Award at least once while serving as crew Advisor.
Demonstrate the use of the Venturing Silver Award program.
Develop youth leadership by effective use of crew officers.
Use the crew officer orientation and program planning process.
Have a proven positive relationship with the chartered organization and associated Boy Scout troop and Cub Scout pack, if any.
Project a positive image of Venturing in the community.
Attract and hold Venturers with crew program and operation.
Lead crew in completion of the Venturing Leadership Skills Course.
Nomination Procedure
The crew president in conjunction with the crew officers nominates the Advisor. The nomination is approved by the crew committee chairman. The nomination is then certified by the unit commissioner and submitted to the council service center. The nomination is then approved by the Scout executive and council commissioner.
The Square Knot patch is the same as the one worn by recipients of the Scoutmaster's Award of Merit, but with a Venturing device added.
---
Page updated on: July 28, 2012
---